Optimise engagements
with your portfolio companies
Introducing the Engagement Tracker, an intuitive dashboard to facilitate efficient investor-investee engagement
Effective engagement is ...
"
The responsible allocation, management and oversight of capital to create long-term value for clients and beneficiaries leading to sustainable benefits for the economy, the environment and society.
- Financial Reporting Council, UK Stewardship Code 2020
THE PROBLEM
Engagement and ESG
1
With data from over 50 firms in the UK, asset managers averaged 158 engagements in a year.
2
Even with increasing active engagements, the two-way engagement process between investors and portfolio companies is very inefficient.
3
There is increasing market and regulatory pressure on investors to demonstrate their stewardship.
4
Data sources are fragmented, data management is manual, tracking progress is difficult.
5
Communication between the increasing number of internal and external stakeholders is ad-hoc.
THE SOLUTION
The Maanch Engagement Tracker
An engagement tracking tool for investors that facilitates targeted ESG impact over time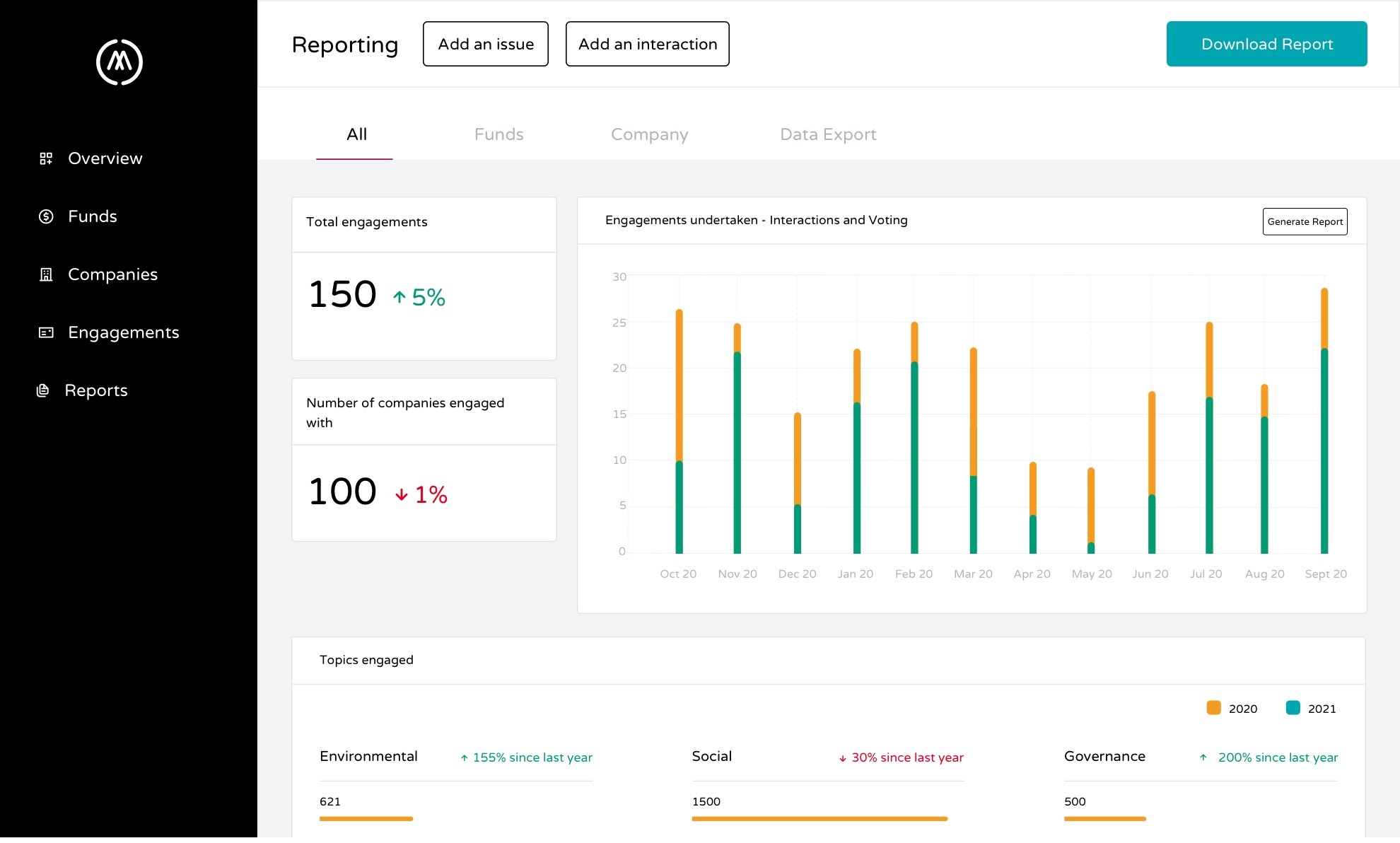 Efficiently record and track issues, interactions and voting data.
Generate personalised impact insights and reports.
Easy-to-use, cost-effective solution for investors
There is growing regulatory and market pressure on investors to prioritise ESG, and within that, active engagement.
In 2020, the Financial Reporting Council released the second edition of the UK Stewardship Code (2020)– setting higher engagement standards for asset owners, managers and service providers.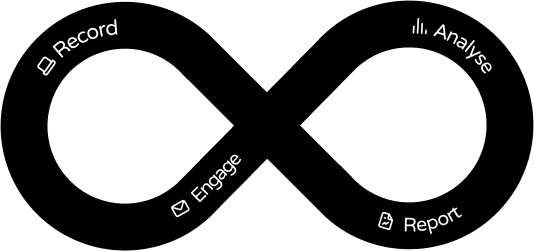 Add an issue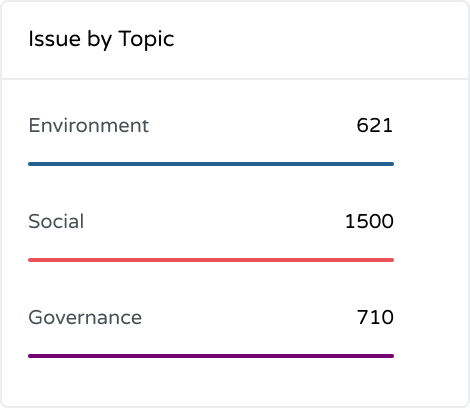 Add an interaction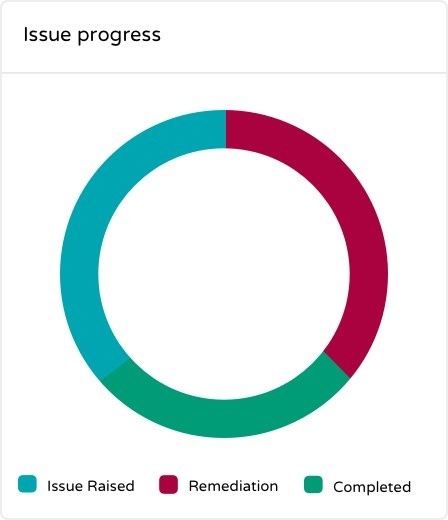 In response to these complex and evolving challenges, we have developed the Maanch Engagement Tracker, a tool that allows you to easily and effectively capture every engagement with your portfolio companies:
Record every issue and interaction
Set and monitor ESG targets
Identify escalations and seek timely action
Aggregate engagement data over time
Organise ESG metrics and reporting
Read more about regulating engagement



Altuity Solutions
Add an issue Link an interaction
ID #ALT6851
Topics: Child Labor
+5 more
ID #ALT6852
Topics: Security Practices
+2 more
ID #ALT685
Topics: Public Policy
+13 more
Issue Raised
Remediation in Progress
Position unchanged
Position reduced
Position divested
Completed
Issues
Investors can record any thematic or reactive issues identified with portfolio companies.
Add supporting documents
Record an interaction
Link an interaction
Added by James
Meeting or call on 24 Nov 2021 with CFO
Linked to Issue ID #ALT6851
Added by James
Questionnaire on 13 Dec 2021 with Head of ESG
Linked to Issue ID #ALT6852
Added by James
Meeting or call on 24 Nov 2021 with CFO
Linked to Issue ID #ALT6853
Letter
Email
Questionnaire
Meeting
Call
Visit to operations
Visit to supplier(s)
Participation in roadshow
Interactions
Each issue can be tracked through any interaction, including letters, meetings and emails, with portfolio companies.
Automated analytics and reporting
Top-level engagement statistics are updated in real-time and analysed across ESG topics.
Engagement reports are available at an organisational, fund and company level. Data is automatically visualised and tailored to a variety of stakeholders.
All engagement data, quantitative and qualitative, can be easily exported from the platform for bespoke analysis and reporting.

Measure every engagement with portfolio companies

Collaborative feedback between investors, portfolio companies and other stakeholders.

Promote sustainability priorities

Reduce reporting time and costs
FEATURES & BENEFITS
Simplify Stewardship
Like you, we want to see a positive change in the world. Our Engagement Tracker enables you to make impact-centric investment decisions by streamlining data and ensuring ESG targets are met.
Understand Engagement Trackers's core features
First in the market
Bringing the best in the industry to facilitate investor-investee engagements for the first time in UK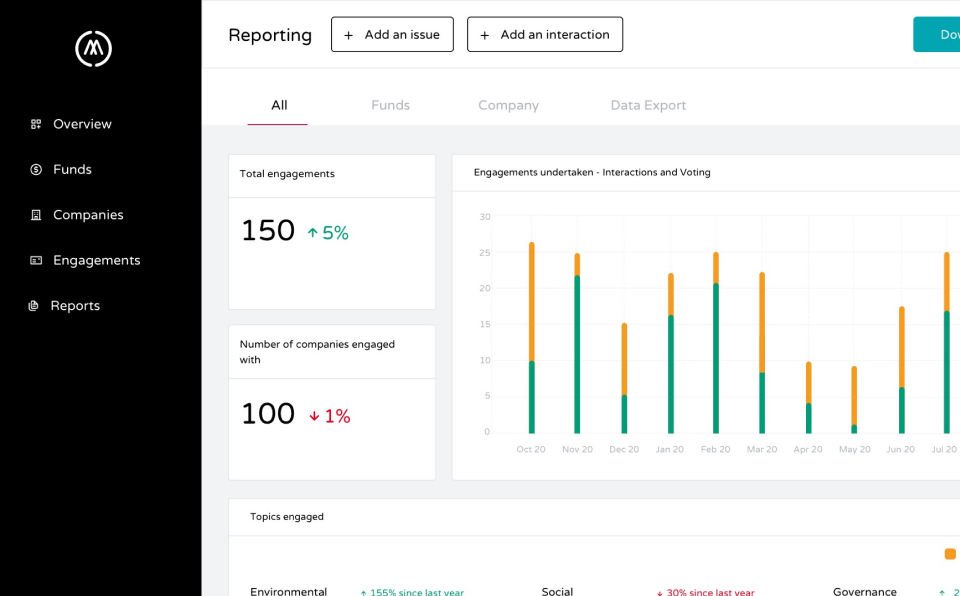 Cost-effective
Make most of every investment at lowest possible cost with an easy-to-use cost-effective solution
Data aggregation & visualization
Identify trends and communicate information in a universal, fast, and effective manner with statistical graphics and visualization.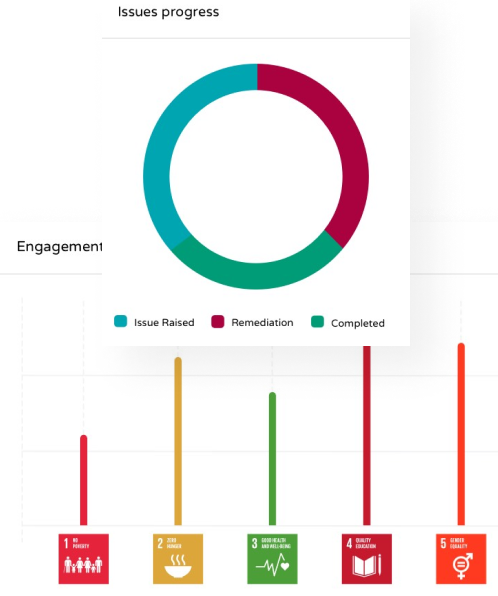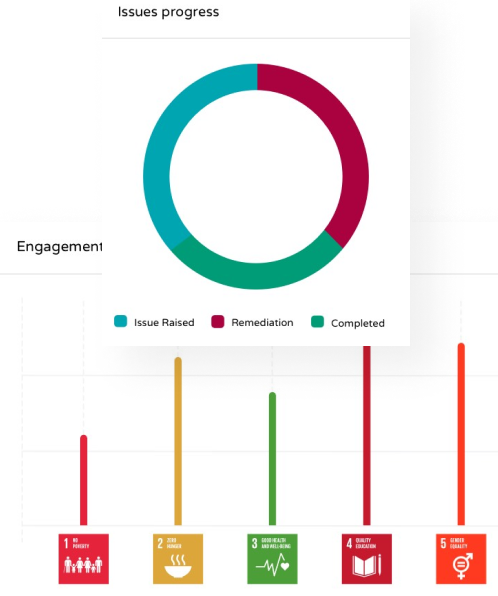 Record, track, measure and act
Record every engagement with portfolio companies, track interactions and meetings while identifying escalations to seek timely action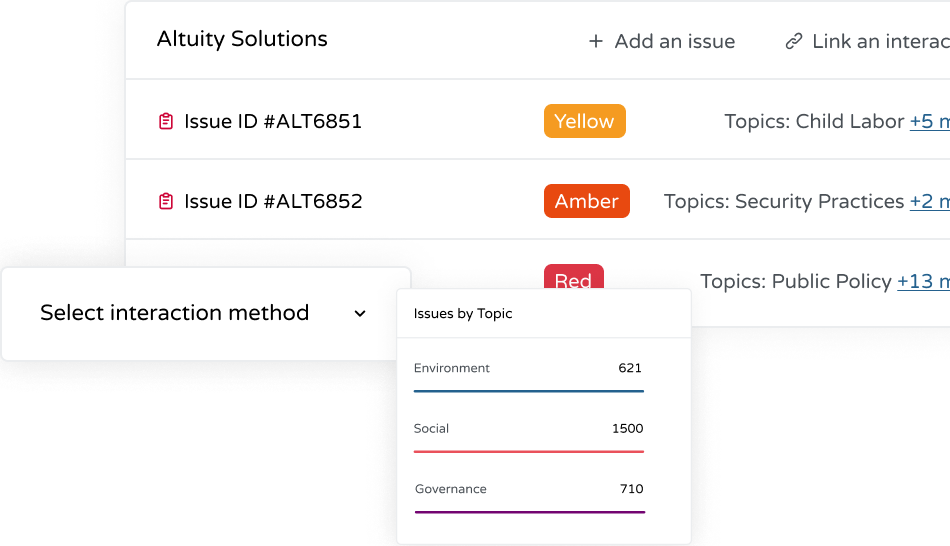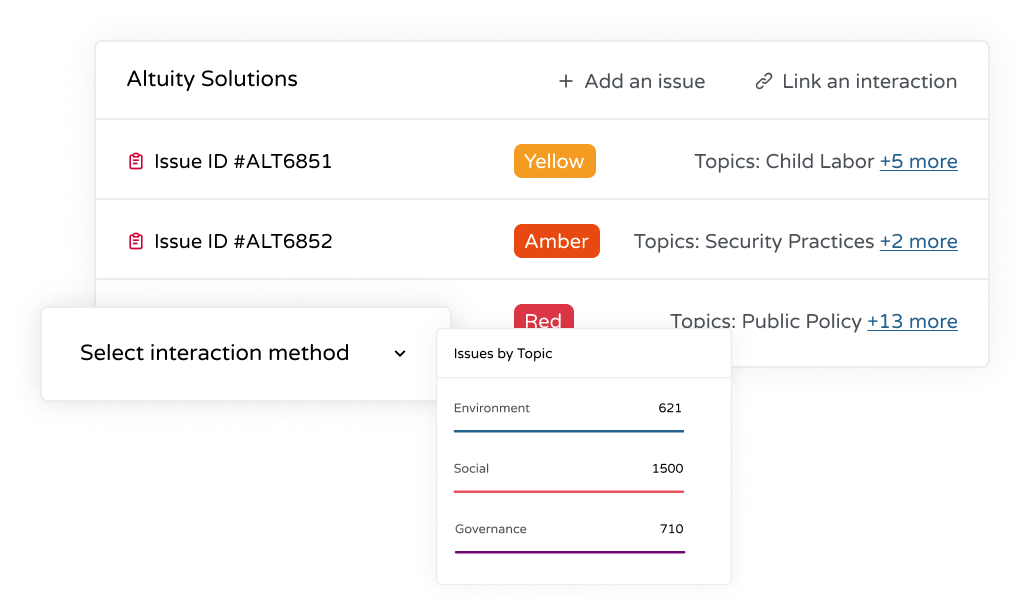 Historic data migration
Migrate data stored on different spreadsheets to a single platform with excellent and quick support
Export data with ease
Share data with stakeholders with an easy data export system
Aligned with the latest regulatory frameworks
With an ever-increasing market pressure and chanding landscapes, align reports with the newest regulatory frameworks
Additional Features
Set and monitor ESG tragets
Add multiple collaborators
Identify escalations and seek timely action
Engage with multiple portfolio companies at once
Custom notifications
Smooth onboarding process
Client Flexibility
Quick online/ phone support
Who is The Engagement Tracker for?
If you are a part of the investor ecosystem, it is likely that our tool will be appropriate for you.
Still not sure?
01
Asset managers
02
Investment funds
03
Impact & ESG funds
04
Stewardship service providers
05
Private banks
06
Private equity funds
07
Family offices
08
Risk management teams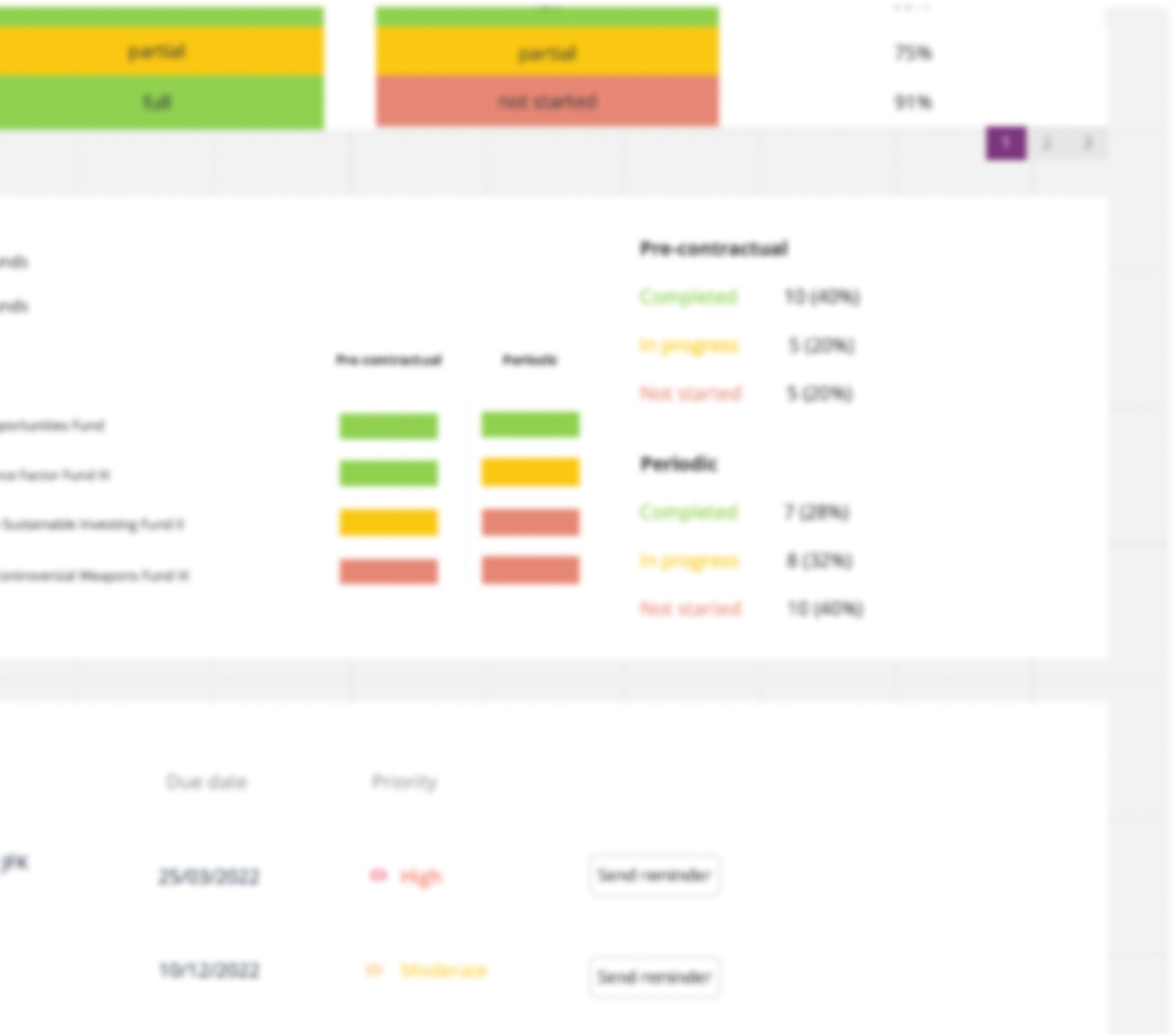 Coming Soon
Regulatory Tracker
An intuitive dashboard for ESG tracking and reporting in compliance with SFDR, TCFD regulations
With the introduction of the Sustainable Finance Disclosure Regulation (SFDR) and Task Force on Climate-related Financial Disclosures (TCFD), sustainability disclosure is no longer voluntary. Financial Market Participants (FMPs) need comprehensive overview of how their investment portfolios perform on Principal Adverse Impact indicators (PAIs) and take action with appropriate fiduciary responsibility before reporting to regulators.
The Maanch Regulatory Tracker automates data capture, analysis and reporting to provide evidence to demonstrate compliance at entity and product level.
Get in touch to learn more